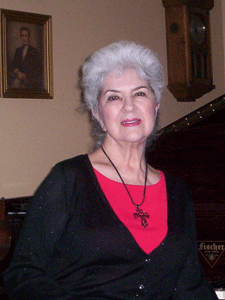 My first published novel HE PLANTED A GARDEN is a contemporary Christian novel that was published by Highland Press Publishing under my name Gloria Tarver. That is the name I'll use for any other inspirational novels that may be published. For my historical fiction I'm using the pen name Lori Lane Tarver. Lane is from my middle name Lanelle.
I've been writing novels so many years I can hardly remember when I became an aspiring author. Mostly I wrote for the pure enjoyment of writing. HE PLANTED A GARDEN, my contemporary Christian romance novel, was my sixth novel and the first to be published. It was published in October 2014 under Highland Press's Grace imprint. My love of English, literature, and composition led me to pursue a degree in English at Samford University in Birmingham, Alabama and at Auburn University in Auburn, Alabama where I earned a B.S degree in English Education.
Besides raising our three wonderful sons, I've been a secretary, public school teacher, homemaker, business woman, volunteer, and active in my church. My beloved husband and I have been married over half a century, and we're still in love. We are the proud grandparents of four absolutely delightful adult grandchildren.
My husband and I grew up and lived most of our lives in Alabama, not far from the banks of the Chattahoochee River and a little over an hour's drive from Atlanta's city limits, but we've resided in the Sandhills of North Carolina for the past nineteen years.
BRANTLEY ARMS is my second novel to be published by Highland Press Publishing, and my sequel BRANTLEY LEGACY is presently in the editing stages there. It's the continuing story of the Brantley saga, and it is primarily about the three Brantley children's young adult lives, but their fascinating and compelling parents' lives are interwoven throughout the story.